My Month on the Road with Dad and Olivier
By Greg Blyth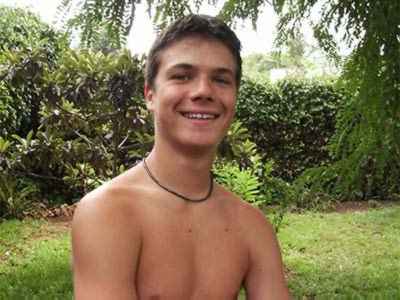 My name is Gregory Blyth. I am 18 years old, the second son of Mike (Dad). I finished school at the end of 1998 and from the beginning of May this year, until the end of August I worked in a hotel in London. I was preparing to go travelling through Europe and to see the world, when I received an e-mail from my Dad offering me a lift on his microlight from London to Morocco. Well, who could resist such an offer, so it was into the air for me from that moment on.
Before I started flying with my Dad and Olivier I had a mental picture of us flying to uninhabited jungles and deserts; hunting small, defenceless animals; and parking off on the beach six hours a day. In reality, we normally fly to a small airfield or land somewhere where are sometimes invited by nice people to stay with them, we almost always eat delicious food, and of course many hours on the beach (usually).
This is a real adventure for me. It still hasn't struck me just how lucky I am to be flying over exotic lands and seeing the world in a way that most people only dream of. The most exciting part of the adventure is the people we meet and the different cultures we experience. I really love moving around to new places. It's like an exciting mystery every day, just waiting to be unveiled: Where will we go? Who will we meet and what will we see?
It's a bit strange for me to be with adults all the time. I'm used to spending most of my time with teenagers. I've met a few people my age, but not many, and not for very long. The only teenager keeping me company is Olivier. But I'm starting to get used to this adult way of life, this adult sense of humour (which is nothing compared to the teenage one, by the way), and their attempt at educating me about girls. WOW, Hold up! I'm sure this trip is having a very negative affect on my libido!
My Dad and I have very different views on many things like religion, life and death. I refuse to be corrupted by the bad boys. Anyway , in all this turmoil and mixing of ideas I'm sure I'll be able to have a positive influence on them one day.
Something important - a bottle of red wine is imperative to everyday living.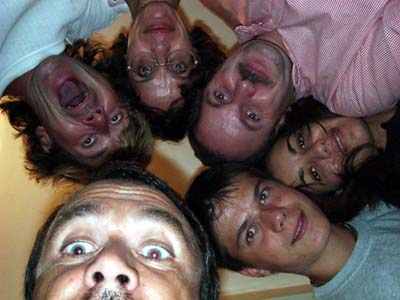 The flying is really good fun. We don't really talk much while in the air. The main reason being the amount of distortion from the earphones that makes communication a bit of a hassle. Things that I'd normally just mention are ignored and forgotten, until we're on the ground. Olivier is a bit faster than our trike, so he normally goes off and then comes back again. We don't see that many other aircraft in the air, normally just small, private planes. We've also come really close to fighter jets. In France we had a few very close encounters of jets doing some high speed, low altitude flying. At one stage there were four of them flying in close formation only a few hundred feet from us. Olivier came close to a Boeing: "I could even read 'Virgin' on the tail."
When flying over the coastline we normally fly low (below 1000 ft). A lot of the time we fly just 10 to 50 ft over the beach. Sometimes over the city areas we fly higher to avoid turbulence. And flying inland we also fly high. I prefer flying low down. It gets really cold when we're high, and besides, I enjoy waving to all the people on the ground. Olivier said I'm like one of those toys that get wound up, with that key in the back.
We've been in Rabat, Morocco for about four days now. The weather has been exceptionally good, but we haven't gone to the beach yet. My Dad and Olivier have been busy with the organising of visas and flight permissions and have spent most of their time going out to see the ambassadors and consulates of African embassies.
I have had the privilege of a young guide showing me around Rabat's market place and even taking me to a friend of hers to have a swim. Karima is 15 and lives with Louis and Bahya here in Rabat. She goes to school near here and is one of the top students or so we've been told. She can speak about a million languages including English, Arabic, French, Spanish and German.
My French is improving quite a bit, with Olivier and Karima as teachers. I had to go to the shops yesterday and try to buy some garlic and potatoes all by myself. Olivier gave me a piece of garlic in case I mispronounced the words he told me to say. It was very intense. The amount of pressure, to speak a foreign language to people I didn't know, was almost unbearable. I was perspiring from total anxiety that swallowed all sense of confidence.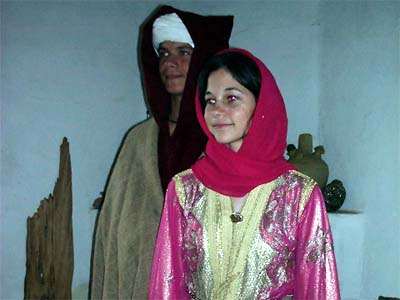 When I eventually got the courage to face the grocer man, I hesitantly muttered the words "Deux touma." The guy's expression turned bad, and he shouted at me "Hchouma!!" I looked at him in shock and he shouted again, even louder, as though I had offended him in the worst possible way. Totally stunned, I retreated a few inches back, into an invisible shell. The thought of trying to say it again brought fateful images to mind. I reached into my pocket for the one thing that would clear all this up and probably save my balls. He looked at the piece of garlic and in one co-ordinated motion his expression changed and he said "Ah, ail!" He turned, I breathed. I still stood motionless in the small, humid corner-shop. Blinking only. Waiting for no more outbursts of rage for what I was clueless of.
Touma is Arabic, and I just found out that I did mispronounce the word. According to Karima I called him a street kid, a junkie. He shouted: "Shame yourself!" I'm just glad I had that piece of garlic, otherwise who knows what would have happened.
I am getting a lift with Karima's brother, Aissa, to Spain tomorrow, where I will go on a one month bus tour through Europe, before heading back to London. On the 20th December I will fly back home to South Africa.
For information the distance I flew with my Dad and Olivier: 4,000 km in 40 hours. I joined Dad on the 27th August and am leaving them tonight, the 29th September.
Thanks for the great adventure Dad and Olivier, see you back in South Africa. Fly safely.
Greg
29th September 1999