Quick Facts:
Expedition Start:
Started in Buenos Aires, Argentina on the 27th March 1999
Expedition End:
Ended in Cape Town on the 27th November 1999
Duration:
8 months
Distance:
43,000 km (27,000 miles)
Longest distance over water:
840 km (530 miles)
Highest Altitude:
12,000'
Hours Flown
450
Countries visited:
Argentina, Chile, Peru, Ecuador, Colombia, Panama, Costa Rica, Nicaragua, Honduras, El Salvador, Guatamala, Mexico, United States, Canada, Greenland, Iceland, United Kingdom, Belgium, France, Spain, Portugal, Morocco, Mauritania, Mali, Burkina Faso, Benin, Nigeria, Cameroon, Gabon, Congo, Angola, Namibia, South Africa.
Most dangerous countries:
Colombia, Cameroon, Nigeria and Angola.
The '99 South to South Adventure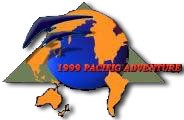 The 1999 South to South Expedition holds the current World Record for the longest ever unsupported Flight by trike. For 8 months in 1999 Olivier Aubert and Mike Blyth covered 43,000 km / 27,000 miles in a flight around the world that goes beyond the imagination.
Also known as the Millennium Microlight Adventure, this flight was dubbed the 'last great flying adventure of the 20th century.'

An award winning video production has now been made from the countless hours of footage taken during the expedition. It is available here.
Please use the menu above and the links below to find out more about the South to South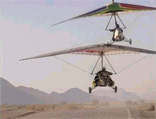 Expedition:
The Route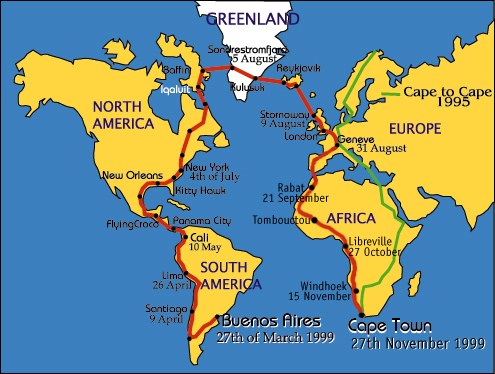 The story and photographs of the South to South Expedition have appeared as cover features in many leading aviation magazines around the world, including Ultralight Flying! and Vol Moteur.